Iki Hiyori
Talk

5
56pages on
this wiki
Hiyori Iki
Character
Rōmaji
Iki Hiyori
Alt. name
Hiyorin (by Kofuku)
Name
Hiyori Iki
Race
Human, Part-Phantom
Gender
Female
Age
15
Hair
Brown
Eyes
Pink
Occupation
9th grade student
Status
Alive
Manga debut
Chapter 2
Anime debut
Episode 01
Japanese voice
Maaya Uchida
Image Gallery
Iki Hiyori (壱岐 ひより) is one of the main characters of the Noragami series. After she was hit by a bus while saving Yato, she gained the ability of astral projection, effectively enabling her to "drop her body" and become a Half-Phantom. Though she attempts to control this ability, she often leaves her body behind without realising it.
Appearance
Edit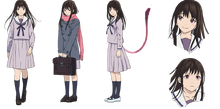 Hiyori has long, dark brown hair and pink eyes, and is often seen wearing her middle school uniform, which consists of a sailor shirt and a knee-length skirt. She does change outfits on occasion, sometimes donning a pink overcoat over the uniform or wearing a pink scarf. When she turns into a Half-Phantom, a purple tail like "cord" that bears a strong resemblance to a cat tail emerges from her lower back.
Personality
Edit
Hiyori is a kind-hearted girl with a strong sense of right and wrong. This is evident when she witnesses Yukine swindling money behind Yato's back and is openly troubled; eventually, she confronts him to ask what he intends to do with it. Hiyori is also characterized by a deep loyalty to those she trusts and a tendency to express her emotions. When Yato's body is overcome by impurity, she does not hesitate to carry him on her back despite her knowing that impurity is transferred through touch. She often acts motherly towards Yukine, worrying about him and helping him with his studies, and is often indignant at Yato and his decisions. Although she often smacks him when she is displeased, she cares about him and Yukine very much.
A common mistake people make is that Mutsumi and Hiyori Iki are the same person. Mutsumi was a one-time character who was bullied by her fellow classmates, while Hiyori is a main character within the series.